AAB COLLEGE OFFERING 100 SCHOLARSHIPS FOR BACHELOR STUDIES WORTH OVER 100 THOUSAND EURO
22 September 2020
AAB College Launches the Scholarship program for bachelor studies 2020/21
Despite the unusual circumstances caused by Covid-19, AAB College, the leading institution of higher education in both Albania and Kosovo, through its Scholarship Program, is offering 100 scholarships for 1 full academic year to all high school graduates who are interested in university studies.
Ranked as the number one non-public institution according to the Webometrix University ranklist, possessing the highest number of students and lecturers, and with a breathtaking infrastructure which speaks to decades of continued investment and care, AAB College once again proves its position as the leader in higher education in the country and beyond.
All statistics and trends of new student enrollment in non-public education, across generations, have shown that AAB College is the first and most popular choice of high school graduates in the Republic of Kosovo. Furthermore, AAB College continues to be the goal and dream of many high school graduates from neighboring lands outside of Kosovo as well, such as the Presheva Valley, Northern Macedonia, Albania, Montenegro, and more!
Also, with over 40 bachelor's and master's programs, accredited by the Agency of Accreditation in Kosovo, and with diplomas which are recognized all over the world, AAB College certainly makes a difference in its field.
There are many reasons that make AAB College the most popular amongst its peers: its modern study programs, the highest standards of teaching, excellent academic staff, state-of-the-art infrastructure and technology, awards and scholarships for distinguished students, best internship opportunities on offer thanks to the Career Development Center; intensive international cooperation, numerous cultural, artistic, and sports activities, and much more!
Potential, talent, and drive exist in every corner of the world, but the same cannot be said about possibilities. This is the reason why AAB College has decided to create roads on paths untrodden and bring possibility where it does not yet exist.
Who can apply?
All high school graduates who have successfully completed the Matura Test and have not yet decided where they want to study. This is a golden opportunity since AAB College offers scholarships in 17 highly sought-after study programs of the bachelor level.
The study programs in which scholarships are offered during this registration period are: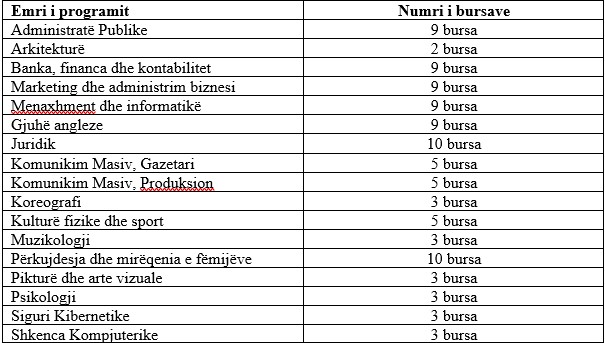 How to apply?
The application method is simple. AAB College has created a special platform where you can input your data, and then will be contacted for further procedures.
Application link:
https://aab-edu.net/programi-i-bursave-2020-21
When to apply?
The application for the Scholarship Program at AAB College is open from September 19 to October 2, 2020 (24.00)
What is the selection procedure?
After the application period, applicants will be invited to take a basic knowledge test depending on the selected field of application. Candidates will receive a phone message for the testing time, which will be held on 05 October 2020.
The Scholarship Program is another opportunity for all those who are interested in having a credible degree in their hands.
AAB College welcomes all applicants and wishes you all success!