Get to know Kosovo through these interesting facts
Probably you haven't heard a lot about Kosovo, but this small and generous country has a lot of stories to tell. In this article we have chosen some facts about Kosovo that you probably didn't know about.
But first of all, let's start with a very short story of Kosovo…
The Republic of Kosovo, known as the landlocked country, is located in the center of the Balkan Peninsula in Southern Europe. There are some quick geographical facts about Kosovo:
Area: 10,908 km²
Population: Around 1.8 million
Language: Albanian
Capital: Pristina
Currency: Euro (€)
The highest point: Gjeravica Mount
Kosovo shares borders with Montenegro, Serbia, North Macedonia and Albania. The smallest country of Balkans Kosovo is surrounded by high mountains. Kosovo is also rich in natural resources: nickel, lead, zinc, magnesium, lignite, kaolin, chrome, bauxite, etc. Since 2008, Kosovo was declared an independent state and it is a parliamentary republic.
Kosovo is the youngest European country
As we mentioned above, Kosovo declared its independence on February 17, 2008. Thus, it is the youngest country in the European territory. But still, Kosovo isn't part of European Union.
During 1998/99, the Kosovo war took place between Kosovo and Serbia, during which Serbian police forces attacked the civil population of Kosovo. In defense of their people and their territory, the Kosovo Liberation Army was formed in Kosovo, which fought against Serbian forces. This war received international attention and required North Atlantic Treaty Organization (NATO) intervention to extinguish it.
As a result of the war, thousands of civilians were killed in Kosovo, thousands more were raped and hundreds more are still missing.
Kosovo declared independence almost a decade after liberation, and over 100 countries have recognized Kosovo's independence. However, Kosovo it's still an isolated country and its citizens can travel without visa only in a limited number of countries.
A small country with several languages
The official languages of Kosovo are Albanian and Serbian. However, several municipalities, besides the Albanian Language, have their local languages as well. For example, in some municipalities, Turkish, Romany and Bosnian languages are local languages.
Even the Rahovec, a small town in Kosovo, besides albanian, has a unique dialect, known as rahoveciance. This dialect contains elements / words from Albanian, Sebian and Bulgarian languages. This dialect isn't an official local language, but still is spoken in the Rahovec area, especially from elder people.
Another interesting thing about languages spoken in Kosovo is that albanian language has two dialects: Gheg and Toske. Albanians in Kosovo use the Gheg dialect in speaking, while standard albanian language is used in written communication.
Also, English language is used in Kosovo, but isn't an official language.
The flag of Kosovo, a story in itself
Until the declaration of independence, Kosovo used the same flag as Albania: the red flag with the black eagle in the middle. But when Kosovo became an independent state in February 2008, many things changed, including the flag.
The official flag of Kosovo has a blue background, the yellow map of Kosovo and six stars above it. But did you know what lies behind the colours and symbols of this flag? As its designer explained: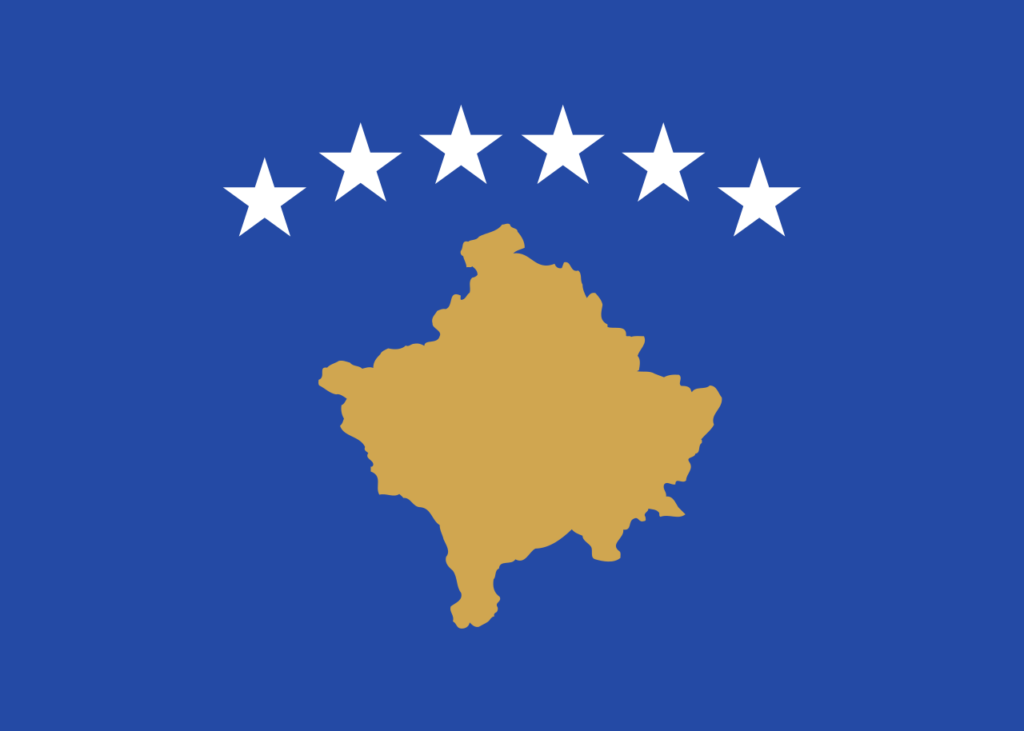 The six stars represent the six main ethnic communities living in Kosovo: Albanians of Kosovo, Bosniaks, Serbs, Turks, Roma and Gorani.
The map, of course, represents the territory of Kosovo, while the yellow (gold) color of the map represents Kosovo as a rich country in resources and a rich country with a young population. An extra fact: Kosovo and Cyprus are the only countries in the world using their map in their flag.
The blue colour in the background represents the aspirations of the citizens of Kosovo to integrate into Euro-Atlantic institutions.
The official flag of Kosovo was designed by Muhamer Ibrahimi, a former soldier of the Kosovo Liberation Army (KLA).
Kosovo is known for interfaith tolerance
They say a picture is worth a thousand words. Well, the picture below is one of them.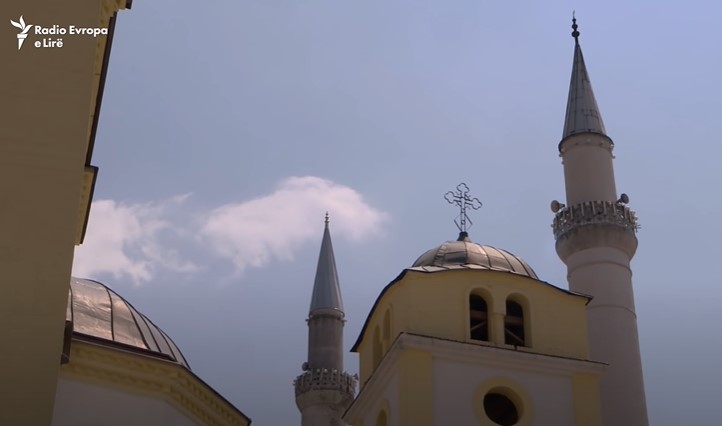 This picture, captured in Ferizaj municipality, shows the church and the mosque in the same space. But it also represents the interfaith tolerance in Ferizaj and more.
Although there are no official statistics about the religious affiliation of the population in Kosovo, it is considered that about 90% of them are Muslim, 6% Orthodox, 3% are Catholic and the remaining of 1% belongs to other faiths. However, Kosovo is known as a country who has religious tolerance, and the aforementioned case is one of them.
There are hundreds of religious monuments in Kosovo as well, which have historical and cultural significance, and many of them are protected by law.
Mother Teresa is of Albanian-origin
You may not have heard about Kosovo before, but you have certainly heard about Mother Teresa, right? She's known worldwide for charity and as the woman who dedicated her life to people in need. She was born in Skopje, on August 26, 1910 and was baptized as Agnesa Gonxhe Bojaxhiu. What you may not have known, is that Mother Teresa was born to Albanian-descent parents in Macedonia.
For her humanitarian work, she was awarded with a lot of prizes, among them, with a Nobel Peace Prize as well. And to this day, she is the first and the only Albanian who has received a prestigious award as the Nobel Prize.
There are some of "Tony Blair", "Bill Clinton" & "Madeleine Albright" in Kosovo
Tony Blair, Madeleine Albright and Bill Clinton are considered heroes and respected figures in Kosovo, thanks to their contribution to the liberation of Kosovo. Thus, many albanians have decided to thank them in a very special way: they have named their children after Tony, Blair, Tony Blair (for Tony Blair), Clinton (for Bill Clinton), Madeleine Albright, etc.
Besides children, there are also streets in Kosovo named after them. In capital Pristina, there are statues of both Bill Clinton and Madeleine Albright as well.
(To add pictures of statues and street names?)
Kosovo, a small country of great artists and sportists
You know Rita Ora, Dua Lipa, Bebe Rexha or Era Istrefi, right? They are astonishing the world with their voice. What about the World champion Majlinda Kelmendi? If you love football, you probably know Granit Xhaka, Lorik Cana, Xherdan Shaqiri and many others. What about the alpinist Uta Ibrahimi?
Besides the success and the talent, they have another thing in common: they all are from Kosovo!
The poorest or the cheapest country?
According to the World Population Review, Kosovo is among the poorest countries in Europe. For 2020, Kosovo is ranked third after Moldova and Ukraine, and has a per capita GDP of $3,893.
But, besides that, Kosovo is a cheap country to live in or to visit. It has beautiful cities, stunning mountains, cultural & historical monuments and a lot of lovely places to visit.
For example, in Prishtina you can rent a small apartment in a normal area for around 170€ per month (or even less in other cities). What about food? You can have a delicious hamburger + a drink for only 1.50€ or a toasted sandwich + drink for only 1€, even in fast food located in the center of Pristina! Do you love drinking tea or coffee? You'll find delicious hot beverages starting from 0.50€.
If you need more information and/or recommendations about living, transport, accommodation, dining and other activities in Pristina, you'll find very useful tips here. Also, you can learn more about the living costs in Kosovo.
In conclusion, Kosovo is a place worth visiting! Moreover, it has generous and hospitable people, which will make you feel like at home.