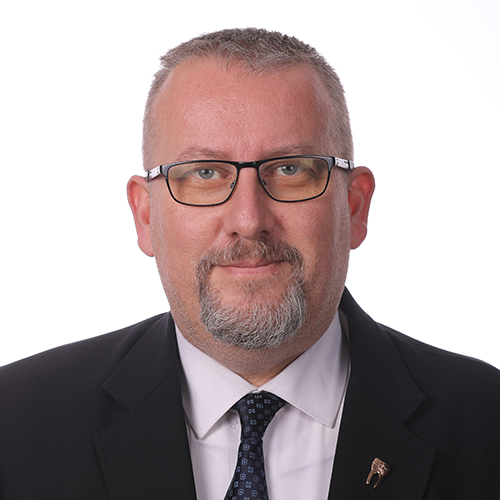 Dean
Responsible person for the program
Astrit Kuçi was born in Prishtina on April 8, 1975. He completed his primary and secondary education in Prishtina. He finished his university studies at the Faculty of Medicine, department of Dentistry, at the University of Prishtina "Hasan Prishtina", his doctoral studies in 2003, and his specialist academic studies in the field of dentistry, department of diseases of the tooth with endodontics in 2008.
Mr. Kuçi is the first in Kosovo to use a stereomicroscope in scientific dental research. He is the author and co-author of several scientific papers, such as: "Determining the length of the tooth root, with three different apex locators", which he has defended at the Endodontic Symposium held in Turkey; "The impact of coronary restoration on the apical periodontium on endodontically treated teeth", while in the German magazine, "Oralprophylaxe Kinderzahneheikunde", he is co-author of the paper "Early Childhood Cariesecc in Children in Kosovo – Preventive perspective" (2010), co-author of the paper "The panoramic radiographs interpretation of endodontically treated teeth in Kosovo population", which he has defended at the European Congress of Radiology, Dentomaxillo-Faciale in Turkey. He has participated in many workshops, symposia and congresses at home and abroad, such as in the USA, Australia, etc.
He completed his doctoral studies at the Medical University of Tirana (2013), and completed his research work at "Gazi" University in Ankara, Turkey. He is also a member of the Steering Council of the Chamber of Dentists of the Republic of Kosovo.
He published parts of his doctoral research in the "Journal of Endodontic" in the United States.
He is currently conducting some scientific research in the professional field, which are soon expected to be published.