Regional conference: Women, women's rights and gender studies
Prishtinë: 05.05.2023 - 06.05.2023
Type: Regional conference:
Organizer:
PARTNER INSTITUTIONS
• University Fan Noli of Korçe, Albania
• State University of Tetova, North Macedonia
• State University of Gjilan Kadr Zekai, Kosovp
• University Ismail Qemali of Vlora, Albania
The Balkans have a complex history marked by conflict, war, and political instability. Throughout the region's history, women have been among the most marginalized and oppressed groups. However, in recent years, there have been significant efforts to improve women's rights in the Balkans. Despite these efforts, women in the Balkans still face many challenges. In some countries, there are still deeply ingrained cultural attitudes that limit women's opportunities and restrict their freedom.
Women also face barriers to accessing education, healthcare, and employment, which can prevent them from achieving economic independence. Research is essential to understanding the challenges that women in the Balkans face and identifying effective strategies to improve their rights.
Researchers can help policymakers and civil society organizations to design programs and policies that promote gender equality and protect women's rights. One area where research is particularly important is in understanding the prevalence and impact of gender-based violence in the region.
Domestic violence is a significant problem in many Balkan countries, and women who experience it often face stigma and a lack of support. Researchers can help to document the extent of the problem, identify risk factors, and develop effective interventions. Another important area of research is the economic empowerment of women. Women in the Balkans are often concentrated in low-paying jobs and are underrepresented in decision-making roles. Researchers can help to identify the factors that limit women's economic opportunities and develop strategies to promote their participation in the workforce and leadership positions. Finally, research can also help to promote women's political participation in the Balkans. Women are underrepresented in political office throughout the region, and there are often cultural and institutional barriers that prevent them from running for office. Researchers can help to identify these barriers and develop strategies to promote women's participation in politics. In conclusion, improving women's rights in the Balkans is crucial for the region's development and stability. Research plays a vital role in identifying the challenges that women face and developing effective strategies to promote gender equality. By investing in research and supporting women's rights, the Balkans can become a more inclusive and prosperous region for all.
Against this understanding, AAB College organizes an academic conference focused on women, women's rights and gender studies in the region. The academic conference is significant for several reasons. First, it provides a platform for scholars, researchers, and practitioners to share their knowledge, ideas, and experiences related to the topic. This can help to build a collective understanding of the issues facing women in the Balkans and identify potential solutions. Second, the academic conference will provide an opportunity to disseminate research findings and raise awareness about the challenges that women face in different spheres of society. This can help to bring attention to the issue and mobilize action to address it. Third, the academic conference provides a forum for networking and building partnerships between scholars, researchers, practitioners, and other stakeholders to facilitate collaboration and joint efforts to address the challenges facing women in the Balkans.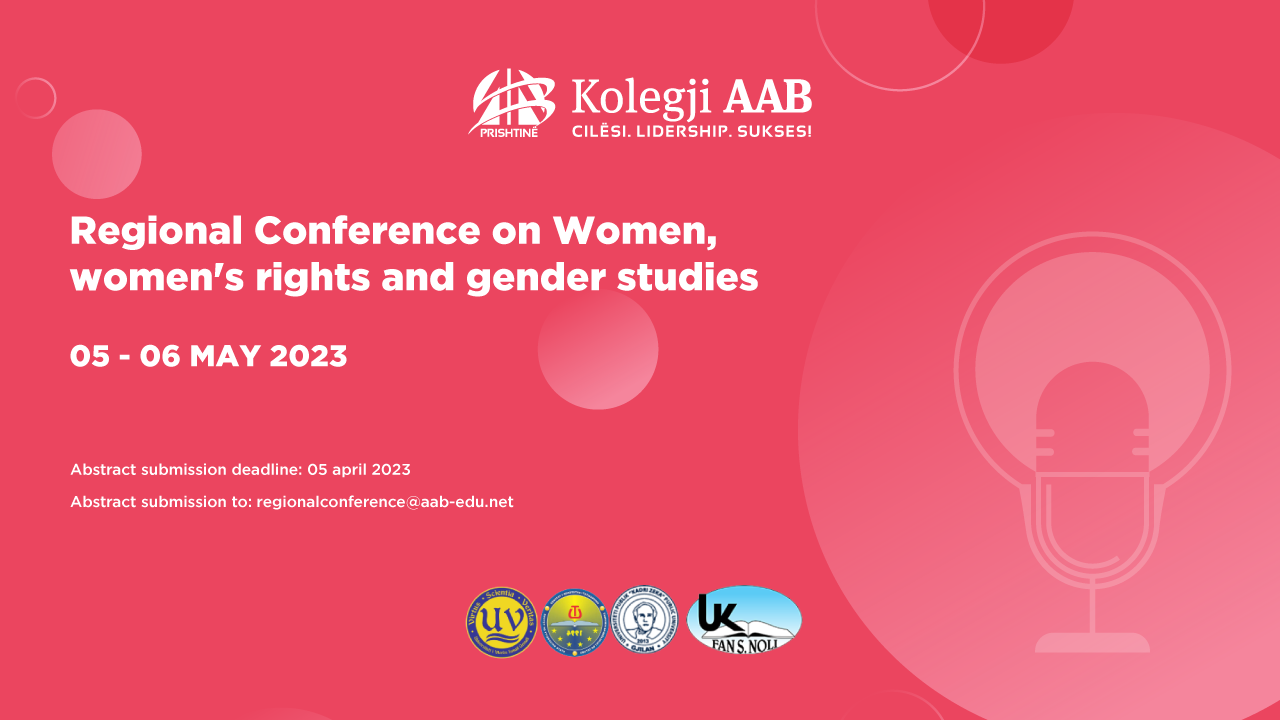 Important dates
Abstract submission deadline: 5 April 2023
Abstract acceptance notification: 12 April 2023
Conference: 5 and 6 May 2023
Full paper submissions: 1 June 2023
SCIENTIFIC PANEL SESSIONS AND ABSTRACT SUBMISSION DETAILS
Abstracts can be submitted for the following six subtopics to [email protected]
Please note that the abstract should be submitted in a word format, Times New Roman, 12 pt. and should not exceed 300 words. Please also provide 5 keywords.
The subtopics are as following:
1. Economics and women's rights
Representation of women in management and leadership in Kosovo
Economic perspectives on the roles of women
Changing economic roles of women and men
The role of women entrepreneurs in transition economy
Other related topics
2. Public administration and women's rights
The role of women in political processes and decision-making
The empowerment of women in politics
The gender quota in Kosovo: Necessity or discrimination?
Other related topics
3. Law and women's rights
Domestic violence with focused attention on violence against women
The right of inheritance as an indicator of gender equality
Women's rights guaranteed by local and international legislation
Socio-economic integration of women in the Republic of Kosovo
Other related topics
4. Social sciences and women's rights
The role of social policies in women's rights
The role of the media in promoting women's rights
Gender representation in leadership positions in educational institutions
Other related topics
5. Language and gender
online construction of gender identities
gender language in the context of protests
language and female politicians
gendered language and/of parenthood
mediatized representation of women
gender balanced language in the public media sphere
female sense of humor
construction of females across genres and contexts
Other related topics
6. Psychology and gender
The psychological effects of discrimination in the workplace
Work-family balance for women and men
Patriarchy and violence against the women
The psychological effects of war-related sexual violence and trauma in women
Other related topics
SCIENTIFIC COMMITTEE
Prof. asst. dr. Uranela Demaj
Prof. asst. dr. Venera Llunji
Prof. asst. dr. Fëllanzë Pula
Prof. asst. dr. Arbërore Bicaj
Dr. Mimoza Kamberi
Prof. asst. dr. Mentor Lecaj
Prof. dr. Roland Zisi
Juliana Ajdini
Prof. assoc. dr. Juliana Ajdini
Orif, assoc. dr. Artemisi Shehu Dono
Prof.ass.dr. Sonela Stillo
Prof. ass. dr. Magdalini Vampa
Dr. Mitjana Profiri
Prof. Dr. Drita Fazlia Mamudi
Prof. asst. dr. Gjeraqina Leka
Prof. asoc. Dr. Dukagjin LekaProf. asst. Dr. Selim Daku
Prof. assoc. dr. Frosina Londo zv. Rektore
Prof. assoc. dr. Aleksandar Takovski
ORGANIZING COMMITTEE
Prof. asst. dr. Uranela Demaj
Dr. Aida Alla
Prof. ass. dr. Violeta Buza
Prof. ass. dr. Blerta Haliti Baruti
Elsa Zyberaj
Ganimete Ismajli
Albulena Brestovci
Donjeta Murtezaj