Scholarship opportunities for International students
Are you a graduate student looking to study abroad? How about Germany and studying for free? Among other things, Germany is known for providing quality education, and not only for German students. There are a lot of great opportunities waiting for international students as well.
So, if you are a foreign student, eager to expand your knowledge, learn a new culture & language, and living in one of the best countries in Europe (and more), take a look below! We have chosen some of the best studying opportunities in Germany for international students. Keep reading and get inspired to study in Germany this year.
Read also: Scholarship opportunities for international students in Switzerland
DAAD Scholarships
DAAD or German Academic Exchange Service offer scholarships for thousands of German and foreign students around the world. So, if you ever dreamed of studying in Germany, you should consider this opportunity as well.
There are different types of DAAD scholarships, such as:
Study scholarships – Master studies for all academic studies

Research grants – short-term grants

Research grants – one-year grants for Doctoral candidates

Research grants – Doctoral Programmes in Germany

Research grants – Bi-nationally supervised Doctoral degrees
What does a DAAD scholarship include?
First of all, we have to mention that DAAD scholarships don't have to be paid back. Usually, this scholarship includes:
A monthly scholarship payment (for example,  861€ for graduates and 1200€ for doctoral/PhD students);

A travel allowance;

Health, accident and personal liability insurance (in many cases).
There are also some additional benefits, depending on scholarship programme:
A one-off research allowance;

Family benefits or

Funds for language courses.
How to apply?
These scholarships are given to students who have excellent academic results, but of course there are other criteria as well. First of all, you should choose the type of scholarship you want to apply for, at the DAAD Scholarship database. Then, you read carefully general application requirements and procedure, choose your status and country of origin, in order to submit an application requirements.
Friedrich Ebert Stiftung Scholarships
Friedrich Ebert Stiftung are available for both Germans and international students who want to study Bachelor, Master or PhD in Germany.
What does a Friedrich Ebert Stiftung Scholarship include?
International students around the world are more than welcomed to apply for this scholarship. The programme especially supports students with limited financial income or those coming from families with a migration backgroung. As a grantee of this scholarship, you will receive:
A monthly allowance up to 744€;

A monthly flat-rate study fee of 300€;

A health insurance of up to 71€ & long-term care insurance of up to 15€ per month;

A family allowance of 155€ (for scholars with children)

Other benefits during studies period (travel expenses, tutions fees, international health insurance, language courses etc.).
How to apply?
First, you should fill in the online application form provided in the foundation's website. If you meet their criteria, you'll be asked for additional documents.
Keep in mind that there are deadlines for Bachelor & Master degree applications (always check their official website) while PHD candidates can apply any time.
Erasmus scholarships in Germany
You have already heard about the famous Erasmus Scholarships, right? Well, this EU programme offers great study opportunities in Europe for international students around the world. So, if you are aiming to study in Germany, you can consider Erasmus as well.
What does an Erasmus scholarship include?
The financial support may vary according to differences in living costs between your country and the destination country, the number of students applying for a grant, the distance between countries and the availability of other grants. However, in general, this programme cover:
A monthly payment for living costs;

Traveling allowance;

Enrollment and Assessment fee at the host university;

Other expenses related to studying (depending on the scholarship you are applying for).
How to apply?
To benefit from this programme, you should be studying or enrolled in a university which is part of Erasmus Charter for Higher Education. Erasmus+ offers scholarships to students who are enrolled in Bachelor or Master studies and for Doctoral candidates as well. Your study period abroad can last from a minimum of 3 months (or 1 academic term or trimester) to a maximum of 12 months. If you are a grantee of an Erasmus Mundus Joint Master Degree, it should last from a minimum of 12 months, to a maximum of 24 months.
If you are interested about the Erasmus+ opportunities in Germany, you can contact Erasmus+ office in your home university or look for scholarships on the Erasmus+ website. Application requirements are depending on the scholarship you choose, but in general these are some of requirements:
CV;

Letter of Motivation;

Transcript of grades and/or a proof that you are a student;

A certificate of language proficiency;

A scanned copy of your ID or passport;

The Learning Agreement;

References or Letters of Recommendations.
Konrad-Adenauer-Stiftung scholarships
This programme offers scholarships to international students and graduates. Keep in mind that besides other criterias, you should have good knowledge of the German language (B2). You should have good academic results as well, and plan to study in Germany at least for three semesters.
What does this scholarship include?
A monthly scholarship of 850€ (861€ as of August 1, 2020) for graduates;

A monthly scholarship of 1200€ for PHD students;

Health care insurance up to the amount of € 120 per month;

A family allowance of € 276 and a children's allowance of € 194 per month (read more here about these allowances).
Also, this foundation offers:
Fund research stays in Germany for the minimum of three semesters;

Financial assistance for research stays abroad for PHD students;

Other benefits related to studying.
How to apply?
There are two ways to apply for a Konrad-Adenauer-Stiftung scholarship:
This programme each year has new focus countries or regions for students whose scholarships will be awarded. So, you check their website and see the focus countries for the respective year.

If you are living or studying in Germany, you can apply for a scholarship as well, via the domestic selection program using their online procedure.
Specific information about applying procedures and requirements you can find here.
Einstein International Postdoctoral Fellow
This programme supports both young researchers in Berlin and international postdoctoral researchers, by offering them the opportunity to work in the city for up to five years.
What does this fellowship include?
When it comes to funding, you should know that this programme supports researchers who already have a source of funding. As is written in their page info:
Remuneration will be based on the collective wage agreement, adopted by the state of Berlin and may in exceptional cases equal the income of the junior research group leader.

Applications may also include an item of expenditure of up to 20,000€ per year, in order to cover material resources for this fellowship.
How to apply?
In order to apply for this grant, applicants must use the application form provided by the Einstein Foundation. The application for this grant must include:
A description of the part of the project on which the Einstein Postdoctoral Fellow will work;

An explanation of how the work of the Einstein Postdoctoral Fellow will be embedded in the project as a whole, and of the expected added value for the junior research group;

A cost plan according to financial year.
Living costs in Germany
Now that you have information about scholarships in Germany, you probably want (and should) know about the living costs there. Of course, life in the big cities (like Berlin or Munich) costs more than in the small ones. But in general, students in Germany spend around 850 Eur per month, in order to cover their living costs.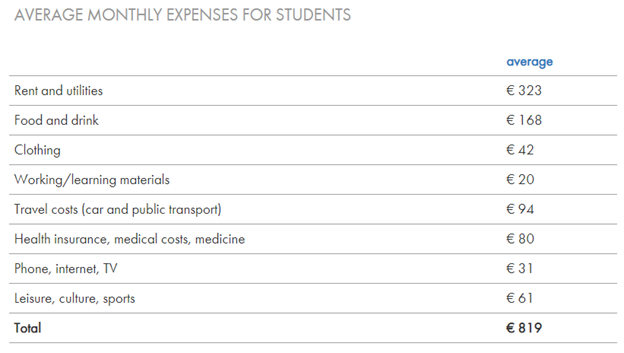 Interesting facts about Germany
If you are planning to study and live in Germany, you should know some interesting things about this country, right? So, be ready to learn some facts about this country.
Germany shares borders with 9 countries: Austria, Switzerland, France, Luxembourg, Netherlands, Poland, Czech Republic, Denmark and Belgium.

When we think about Germany, we think about beer. That's because Germany is known for beer consumption as well. According to some data published by

bestbeerfestivals.com

, Germany is listed the fourth among the countries that consume the most beer.

While talking about beers, there are more than

5000 types of beer

in Germany.

The most popular sport in Germany is Football.

It

is said

that Christmas tree tradition came from Germany.
Of course there are more things about Germany, and one of the best ways to explore this country, is to visit it. And you can do it – apply for a scholarship, learn, travel and enjoy it!
We hope this article was helpful to you and we wish you nothing but success during your academic journey – whether in Germany or anywhere else! We encourage you to study abroad, because in addition to academic achievement, you will get to know and enjoy the world around you as well. As Jo Andrews said: "It is a big world out there. It would be a shame not to experience it!"